What is ChatGPT? | 8+ Best ChatGPT Chrome Extensions in 2023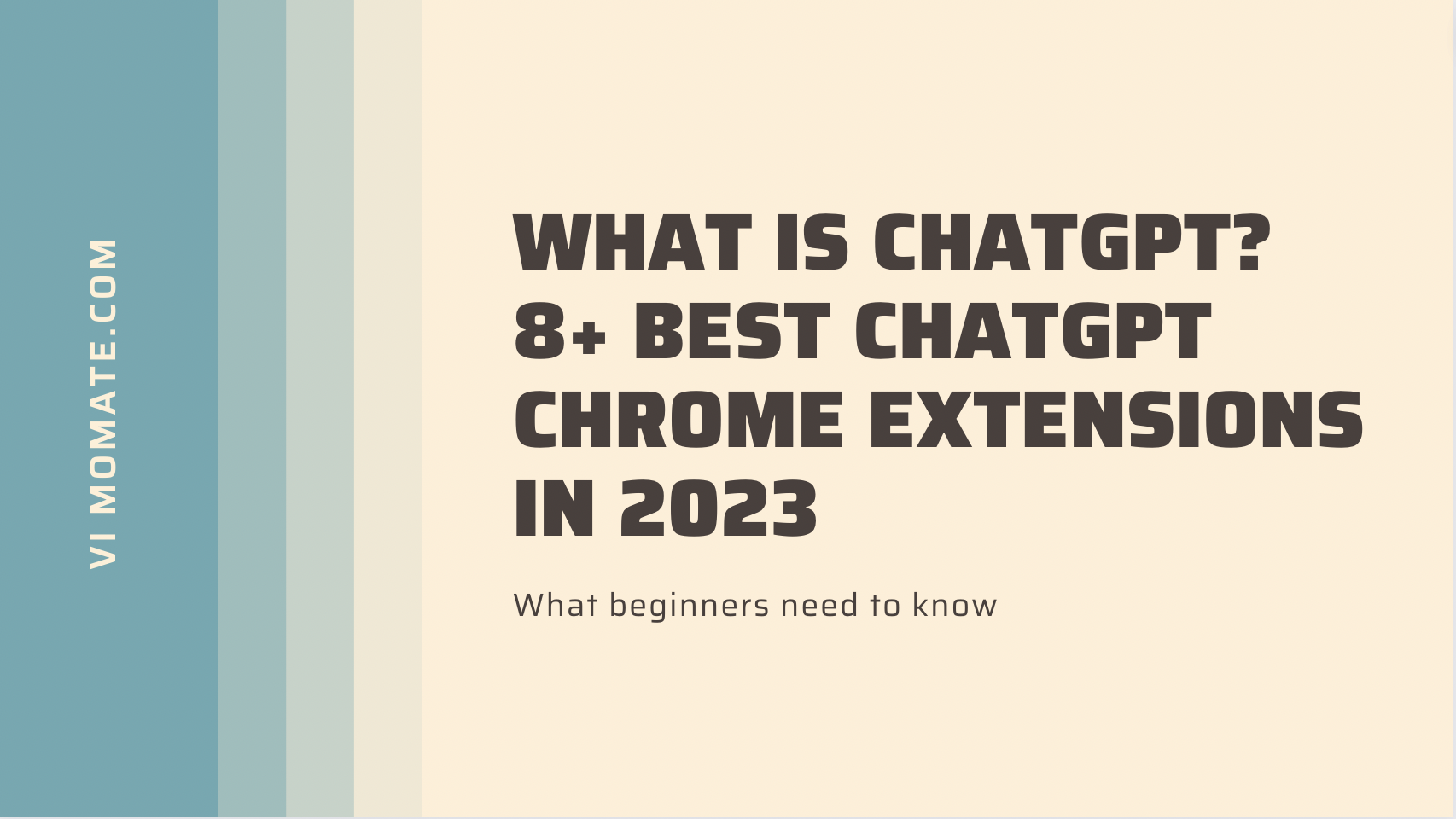 What is ChatGPT?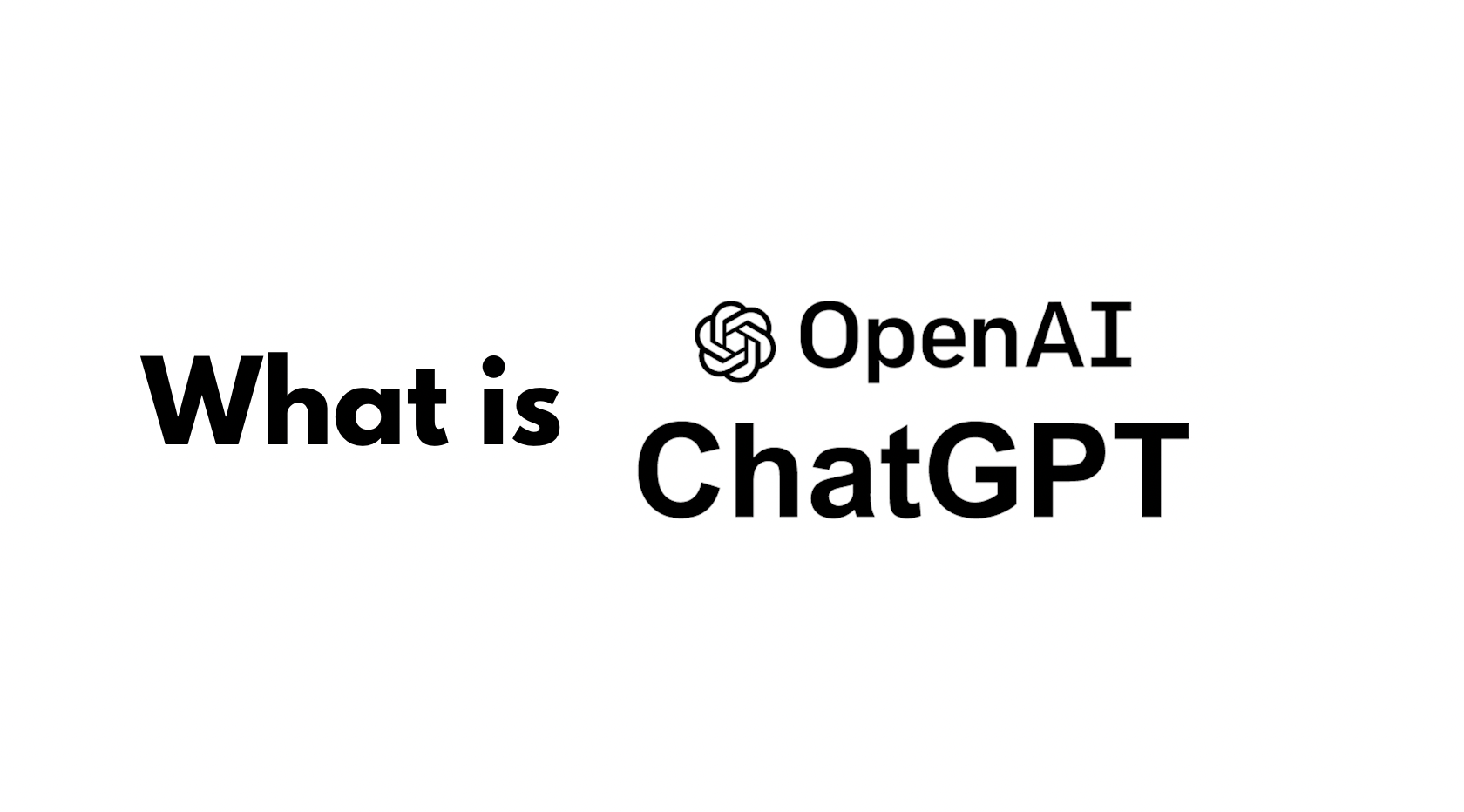 As technology continues to advance, the ways in which we communicate with one another have evolved as well. One of the latest innovations in the world of communication is the ChatGPT platform. If you're wondering what ChatGPT is, how it works, and what it can do for you, you've come to the right place. In this comprehensive guide, we'll answer all of your questions and provide you with the information you need to make the most of this powerful communication tool.
ChatGPT is an advanced chatbot that is powered by OpenAI's GPT technology. The platform is designed to allow users to interact with an AI-based chatbot in a natural, human-like way. ChatGPT is capable of understanding natural language and responding to user queries in real-time. The platform is designed to be user-friendly, making it easy for users to communicate with the chatbot and get the information they need quickly and easily.
How does ChatGPT work?
ChatGPT works by leveraging OpenAI's GPT technology to analyze user input and provide accurate, contextually relevant responses. The platform is designed to learn from user interactions, so the more you use it, the more accurate and useful it becomes. ChatGPT can be accessed through a web-based interface or integrated into other applications using APIs. The platform can be customized to suit the needs of individual users or businesses, making it a highly versatile communication tool.
What can ChatGPT do for me?
ChatGPT can be used for a wide range of purposes, from answering customer queries to providing automated customer support. The platform is particularly useful for businesses that need to provide quick and efficient responses to customer inquiries. ChatGPT can be integrated into websites, social media channels, and messaging applications, making it easy for businesses to reach their customers wherever they are. Additionally, ChatGPT can be used to automate repetitive tasks, freeing up time for businesses to focus on more important tasks.
How do I get started with ChatGPT?
Getting started with ChatGPT is easy. Simply sign up for an account on the platform's website and start using the chatbot to interact with customers or automate tasks. The platform offers a range of customization options, including the ability to create custom responses and integrate the chatbot into other applications.
Is ChatGPT secure?
Yes, ChatGPT is designed with security in mind. The platform uses advanced encryption and authentication mechanisms to ensure that user data is kept secure at all times. Additionally, ChatGPT is compliant with industry standards and regulations, ensuring that businesses can use the platform with confidence.
What are some best practices for using ChatGPT?
To make the most of ChatGPT, it's important to follow some best practices. First, ensure that the chatbot is set up correctly and customized to meet the needs of your business. Additionally, it's important to monitor user interactions and analyze data to identify areas for improvement. Finally, it's important to use ChatGPT as a complement to human customer support, rather than a replacement. While the platform is highly efficient and effective, there are some situations where human intervention may be necessary.
In summary, ChatGPT is an advanced chatbot platform that is powered by OpenAI's GPT technology.
Best ChatGPT Chrome Extensions in 2023

Vimeo Summary with ChatGPT itself is a Vimeo video downloader extension that has recently been updated with a Vimeo video summary feature. This feature allows users to generate summaries for all Vimeo videos with one click, which is useful for keeping track of the video synopsis they watch.
Just open any Vimeo video, play it and make sure Vimeo™ Downloader and chatGPT Video Summary is enabled to see the different options inside the video, and click [Summary] to jump to ChatGPT and generate a summary of the video.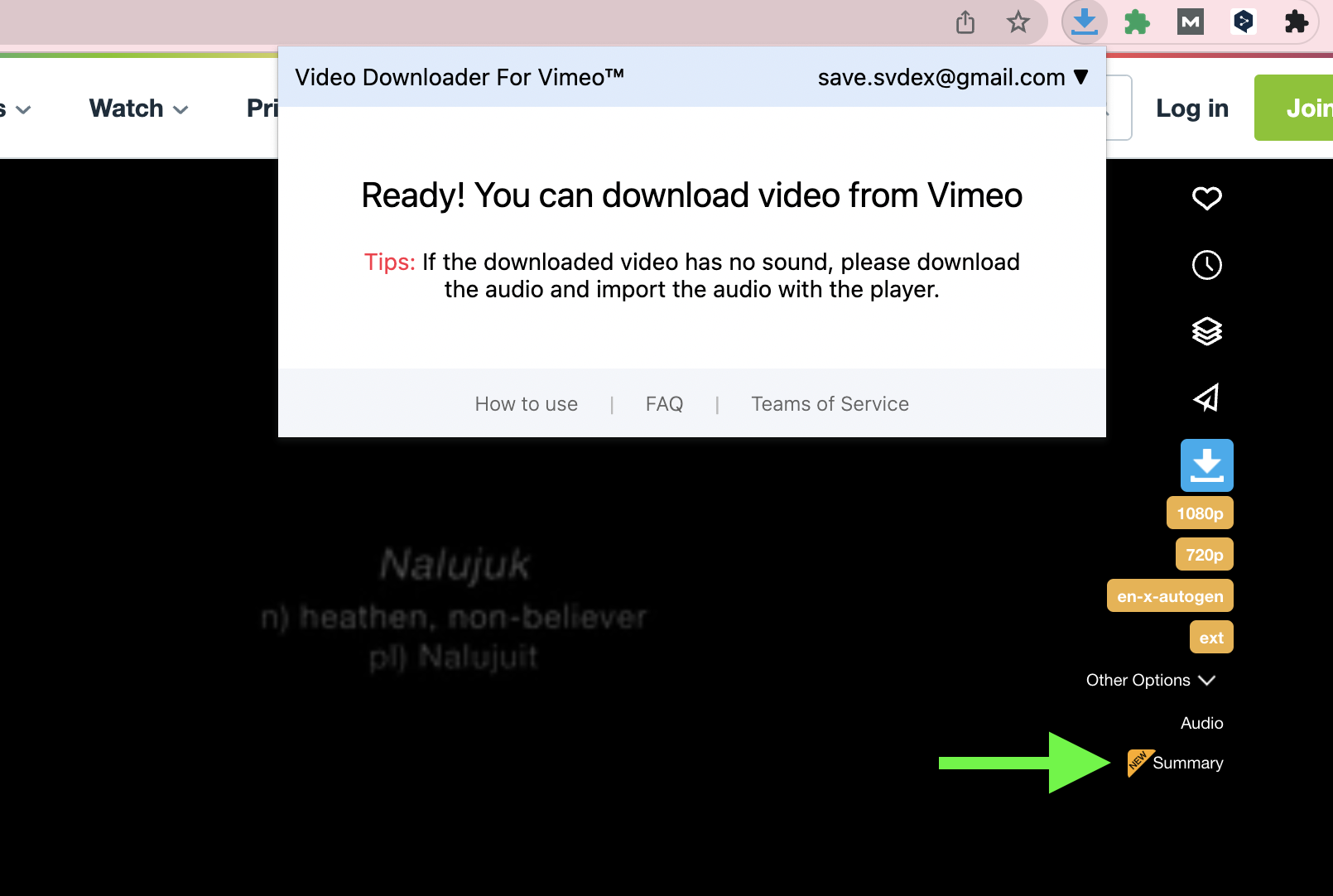 YouTube Summary with ChatGPT
YouTube Summary with ChatGPT is a free Chrome Extension that lets you quickly access the summary of the YouTube videos you are watching with OpenAI's ChatGPT AI technology. Use this extension to save time and learn quicker.
Also, you can quickly view and access the summary of the video by clicking the summary buttons on the video thumbnail while browsing videos on YouTube.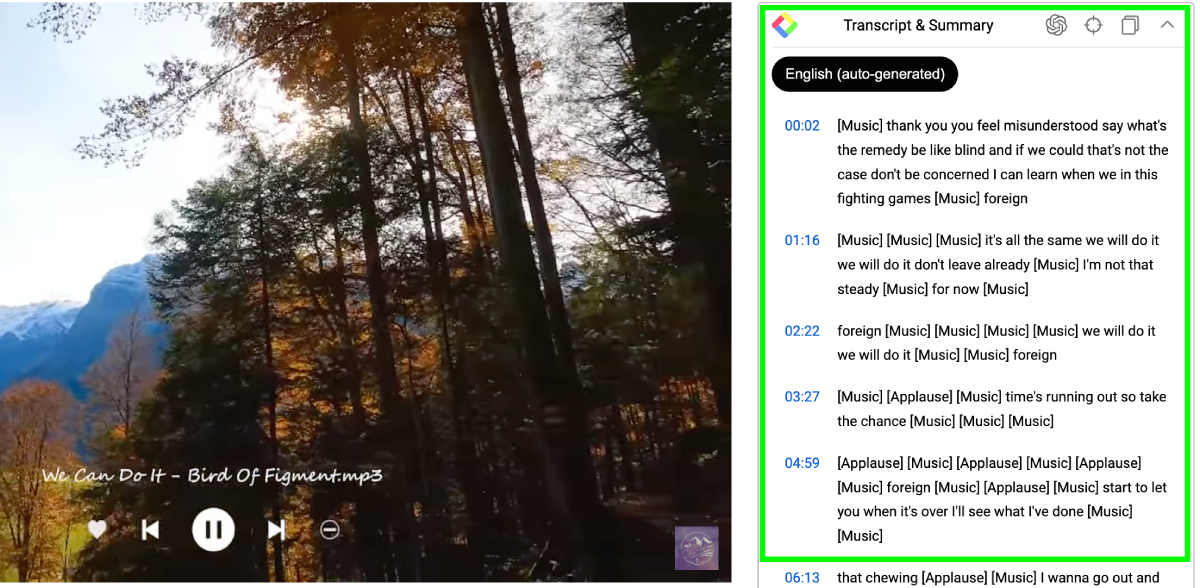 ChatGPT for Google

ChatGPT for Google is a browser extension that enhance search engines with the power of ChatGPT. It works by showing ChatGPT response alongside normal search engine results. Currently, ChatGPT for Google supports Google, Bing, DuckDuckGo and more search engines.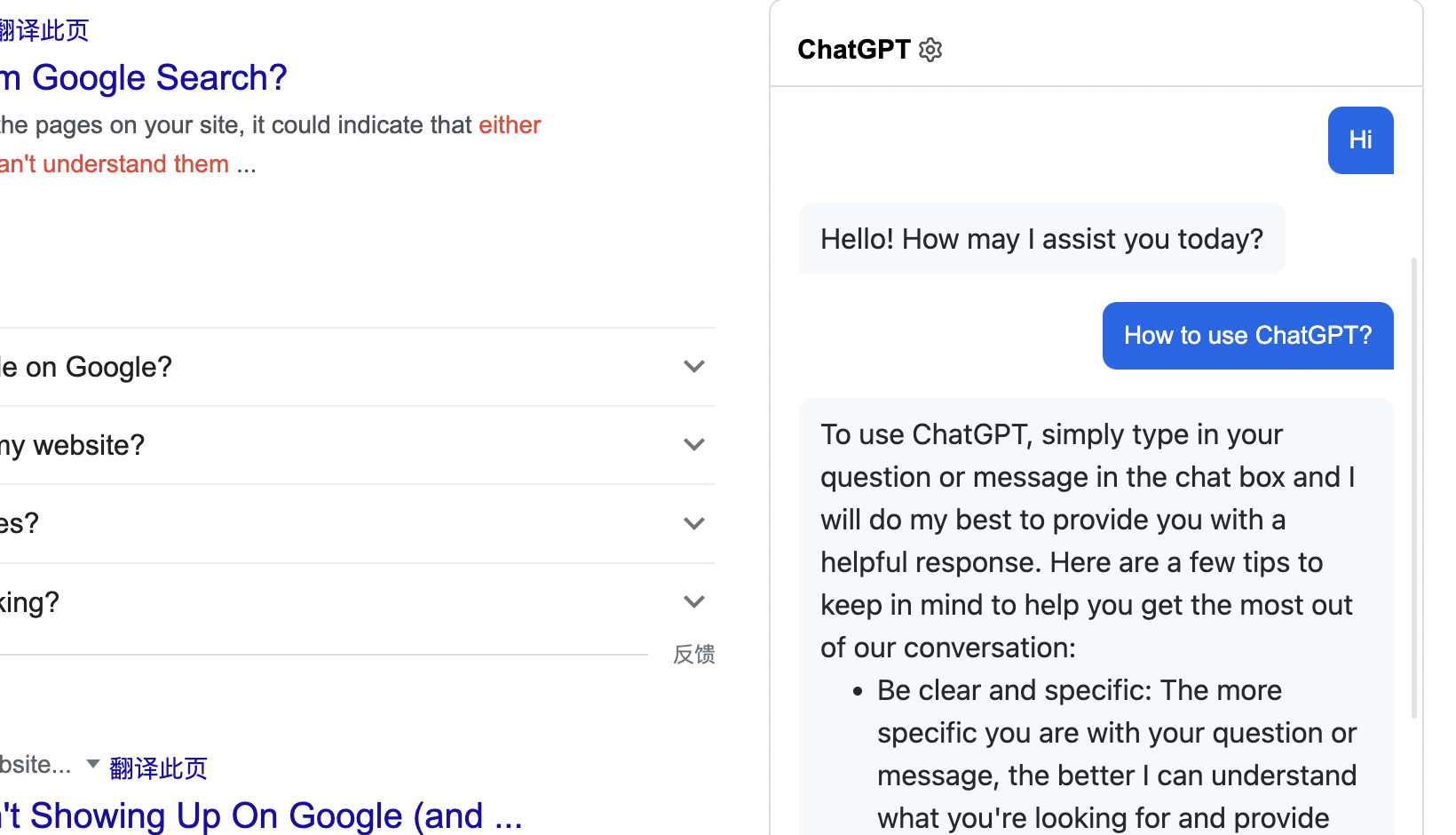 Supports all popular search engines
Supports official OpenAI API (GPT-3)
Access ChatGPT from extension popup
Markdown rendering
Code highlights
Dark mode
Feedback to improve ChatGPT
Custom trigger mode
Copy to clipboard
AIPRM for ChatGPT

AIPRM for ChatGPT is a one-click tip! It adds a list of curated tip templates for SEO, SaaS, and more to ChatGPT. Don't waste any more time trying to design the perfect prompts - the AIPRM ChatGPT Prompts for SEO extension can work perfectly for you.
With just one click, you can access ChatGPT tips explicitly designed for the list of curated tip templates for SEO, SaaS, marketing, art, programming, and more in ChatGPT.
These tips will help you optimize your website and improve its ranking on search engines.
Now you can save your tip templates for your own use, or share them with the community so everyone can benefit from them. As the author of the tip template, your name and link will be displayed very prominently next to the tip, giving you the opportunity to get clicks and recognition.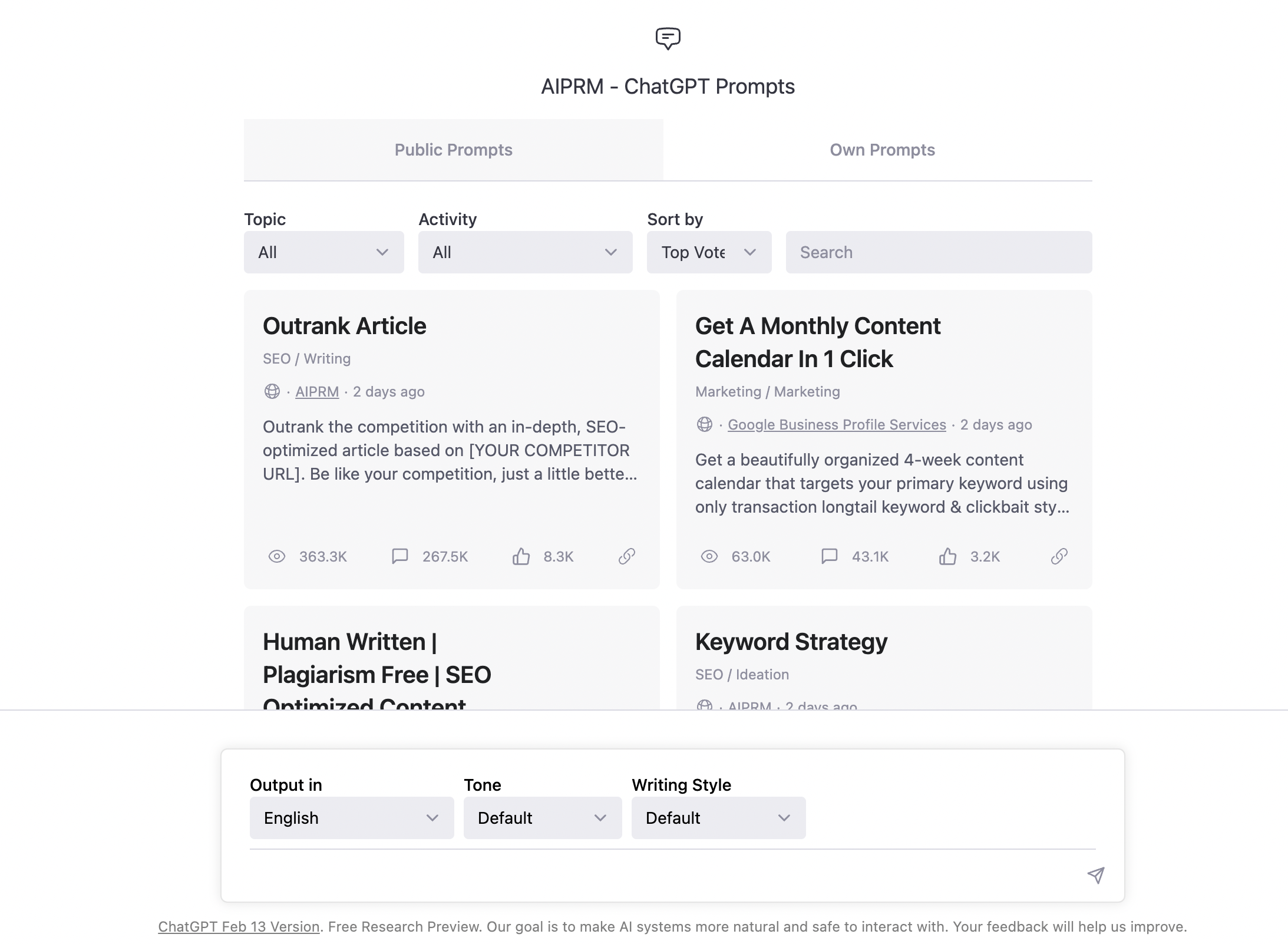 Tactiq: ChatGPT meeting summary
ChatGPT Summary for Google Meet, MS Teams, Zoom. Transcribe and Summarize Google Meet, MS Teams, Zoom using ChatGPT.
No more taking notes or missing things - Tactiq takes the notes for you. Sales calls, team meetings, online classes, customer interviews, product research, presentations, masterclass - you can use Tactiq to capture everything everyone says, so you don't miss anything. Ever. 🙌
Join beta to use OpenAI ChatGPT for your meetings: generate meeting summaries using GPT3, automatically get the top 5 highlights, tasks, follow-ups and next meeting agenda using ChatGPT! Make 3 meetings with participants and check self-generated agendas.
With Tactiq you can transcribe Google Meet, Zoom, Webex, Microsoft Teams Meetings. Highlight the important stuff, tag action items, save chat, take screenshots and then Tactiq will summarise everything into a Google Doc for you.
Record live captions for Google Meetings
Record Zoom live captions
Save captions for Google Meetings
Save Zoom captions
Get transcripts with speaker identity and time stamp
Search transcripts by Google Meeting attendee
Automatically save transcripts to your Google Drive, Notion or HubSpot
Notify your colleagues in Slack and Microsoft Teams
Update your leads and contacts in CRM
Export transcripts to PDF and cloud collaboration tools
Screen capture meetings and store screenshots with meeting notes
Automatically save messages, links and comments from calls to transcripts
Summarize

Summarize is a Chrome extension that integrates OpenAI's ChatGPT feature, thus enabling instant summarization of articles and text. It can summarize any article you view.
With the Summarize extension, you can get the main ideas of any page with just one click, without leaving that page. Whether you're reading news, articles, blogs, or research reports, Summarize is there to help you.
Not only that, you'll be able to navigate through all open tabs faster, stay up-to-date on everything you want to read, and never miss a key takeaway again.
Merlin - OpenAI GPT powered assistant

Merlin Chatgp allows you to use OpenAI's ChatGPT on all your favorite sites. e.g. Google Search, Gmail, LinkedIn, Github, and other places you search or write online.
Effortlessly Summarize Your Content on Any Website
Master Complex Excel Formulas and Codes
Effortlessly Write Professional Email Replies
Convert lengthy documents into a concise and shorter version.
Effortlessly generate new content ideas for your next marketing campaign
Solve any coding problem or get code for your questions
Get answers to every question your kids ask.
ChatGPT Writer - Write mail, messages with AI

ChatGPT Writer - Write mail, messages with AI is a privacy-friendly Chrome extension to generate entire emails and messages using ChatGPT AI. All sites are supported and enhanced support for Gmail.
Conclusion
This is all about what ChatGPT is and the 8 current Chrome extensions with OpenAI integration. If you like this article, you are welcome to share it with your friends!